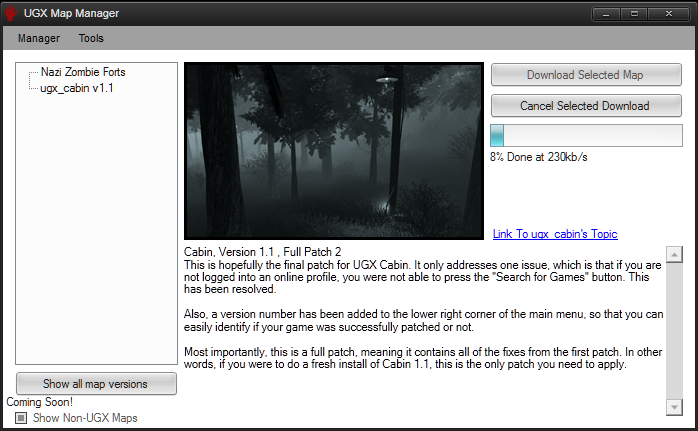 Download UGX Map Manager
UGX-Mods MapManager
About the UGX MapManager
This app allows you to download all UGX maps (and updates!) as well as community-made (non-UGX maps). This includes but is not limited to UGX Comosea, UGX Christmas, UGX Cabin, Zombie House, and Zombie Seelow.
How to use
Open the app.
Once you open the app, on the left side you will see a list of available UGX maps that you do not already have the latest version of. If you would like to see all available maps, regardless of what version you have, press the Show all Maps button in the bottom left corner of the app.
Once you select a map to download from the left column, press the Download Map button on the right side of the screen. A loading bar will indicate the download's progress and show the download speed.
After a map finishes downloading, you need not do anything more. The UGX Map Manager will automatically install the map's files for you.
To launch a map or mod, click Tools from the menu bar of the application and click the map from the list that appears under Launch Maps.
Experience any issues? Read the FAQ below or check further links for help
Features
Allows you to download + install UGX Maps in a one-click step
Shows a screenshot and full description of the map, as well as a link to the forum topic for the map
Automatically updates UGX Maps to their latest versions in a one-click step
Downloads files directly from the UGX site, meaning download links will never expire
Can download multiple maps at a time
Allows you to easily launch any installed WaW map (UGX and all others) from a convenient list
The program also will automatically update itself in a one-click step
FAQ
Application
The application is not starting or crashing.
Ensure that you have the correct .NET dependency installed!
This app requires .NET version 4 to run: Download here
Download / Connection
I have Download / Network / Firewall / Connection issues!
Ensure that your anti virus and firewall are not blocking the application!
Eventually switch the download mirror. Others have reported that waiting a day does fix the issue magically.
Where are the downloads stored if an error occurred?
Location C:\Users\%username%\AppData\Local\Temp\UGX Map Manager
Eventually you can extract the content yourself. Read the How to play Custom Zombies Guide FAQ for the mods location.
Plutonium
Is the Map Manager working with Plutonium?
The UGX Map Manager does not fully support Plutonium!
The mods will be downloaded to the official mods folder, but for Plutonium it needs to be changed!
Check out our How to play Custom Zombies Guide and the FAQ to know where the download locations are and how to handle Plutonium.
Runtime Errors
The process cannot access the file "***" because it is being used by another process
This is most likely related to your anti virus. Be sure to whitelist the UGX Map Manager or temporarily disable your anti virus
Further links